Textile Technology
Weaving Workshop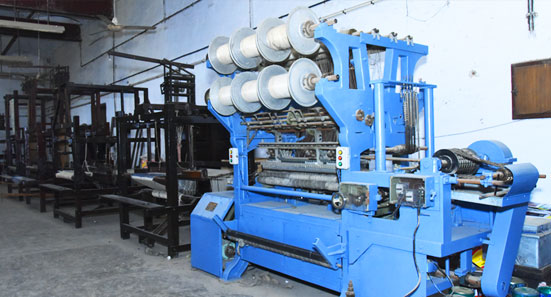 | Sl.No | Name of M/c | Nos. |
| --- | --- | --- |
| 1 | Handlooms | 03 |
| 2 | Drum winding machine | 01 |
| 3 | Pern Winding machine | 02 |
| 4 | Lanoratery model Pern Winding machine (4 spindle) | 01 |
| 5 | Beam Warping machine | 02 |
| 6 | Sectmal Warping machine (hand driven) | 01 |
| 7 | Plan tapper loom | 04 |
| 8 | Thrill tapper loom | 02 |
| 9 | Dobby loom (16 jachs) | 05 |
| 10 | Jacquard loom | 03 |
| 11 | Terry pile loom | 01 |
| 12 | Automatic loom (Pern changer) | 02 |
| 13 | Automatic loom (shuttle changer) | 01 |
| 14 | Cromton & Knowl dobby loom | 01 |
| 15 | Multiple Box loom | 03 |
| 16 | Circular knitting machine | 01 |
Spinning Lab
Spinning lab has wide range of spinning commercial machines from old to very modern machines. Complete instructional and practical knowledge about construction and working of these commercial machines is being provided.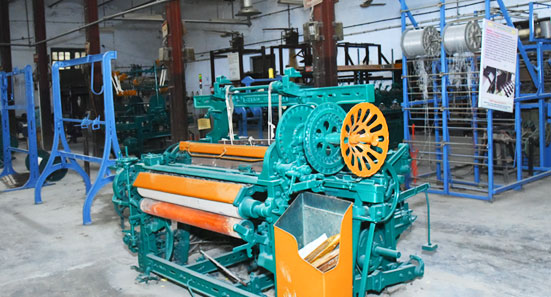 Name of the machines are of following:
A six cleaning point blow room line
One conventional card
One semi high production card
One high production card
Three conventional type draw frame.
One modern NSE draw frame.
Lap preparation system consisting of sliver lap and Ribbon lap.
A six head comber.
How a Texmaco speed frame
A modern speed frame with stop motion for creel, roving and pneumatic controlled movemnet of belt.
One ring frame with spring loaded drafting system.
One ring frame with pneumatic loaded drafting system.
One pilot ring fram with twelve plug type spindle.
An O.M.S. sliver to yarn spining machine
A fancy doubling machine.
A modern TFO UTS-07 of star Valkman.
Working models of various differentiat building motion and loading on drafting.